Social work
Educational Foundation
Isha Educating for Peace is a self-funded NGO, teaching the Isha Judd System for free to thousands throughout the continent of South America. Working with children, the terminally ill, prisoners and people with disabilities, the organisation aims to support all those going through difficult circumstances. Isha's approach to world peace starts in the heart of every human. It urges the individual to take responsibility for their own happiness, their own fulfilment, and to find the strength within themselves to move beyond any hardships life may bring.
The results of her initiatives are impacting: high security inmates report feelings of inner freedom, former addicts finally satiate the need for their drug of choice. In hospitals, the Isha Judd System helps terminal patients accelerate the healing process and reach full recovery, or in less fortunate circumstances to face the last days of their lives with greater serenity and peace.
Post-Earthquake Support, Chile
In October 2010 Isha visited Talcahuano and Talca, two of the cities most affected by the recent earthquakes in Chile. Over 6,000 people participated in these events, with support from local municipalities and the national media.
""This was an opportunity for us to learn how to confront the problems and challenges of our current situation, which are particularly complex for us firefighters, due to the emergencies we face daily."
Sergio Cortés, volunteer firefighter.
"A positive experience for everyone in our community, especially at this time of great stress."
Maritza Durán
"Just by learning to close our eyes and relax, we are already solving half the problem"
Alfredo Murat
Isha taught the Mexican Army
On February 5, 2013, Isha was invited to teach 200 soldiers in the 24th Military Zone in the state of Morelos, Mexico. It was the first time the system was taught to soldiers in active service, in an event full of emotion and depth.
Isha signs an official agreement with the National Police Force of Chile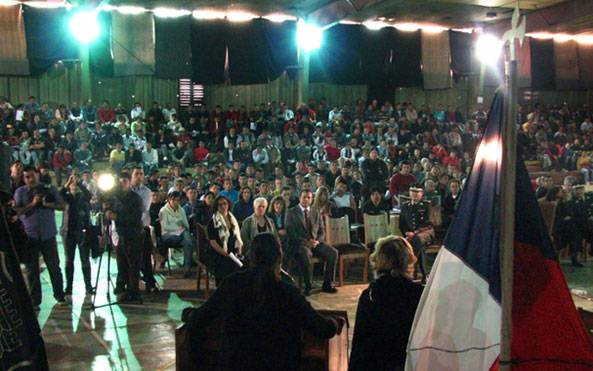 On May 17th 2011, Isha signed an official agreement with the National Police Force of Chile, to make the Isha System available in every prison in the country. In a recent survey of participants in Isha's prison programs in Chile, 55% of prisoners reported feeling an increase in self-esteem as a result of practicing the Isha System. 54% also reported feeling less aggressive, and 66% reported having improved the quality of their relationships with others.
In Uruguay, changes in inmates participating in Isha's programs have been so impressive that the foundation has established an official agreement with the National Prison Directorate, awarding participating inmates with a sentence reduction scheme.