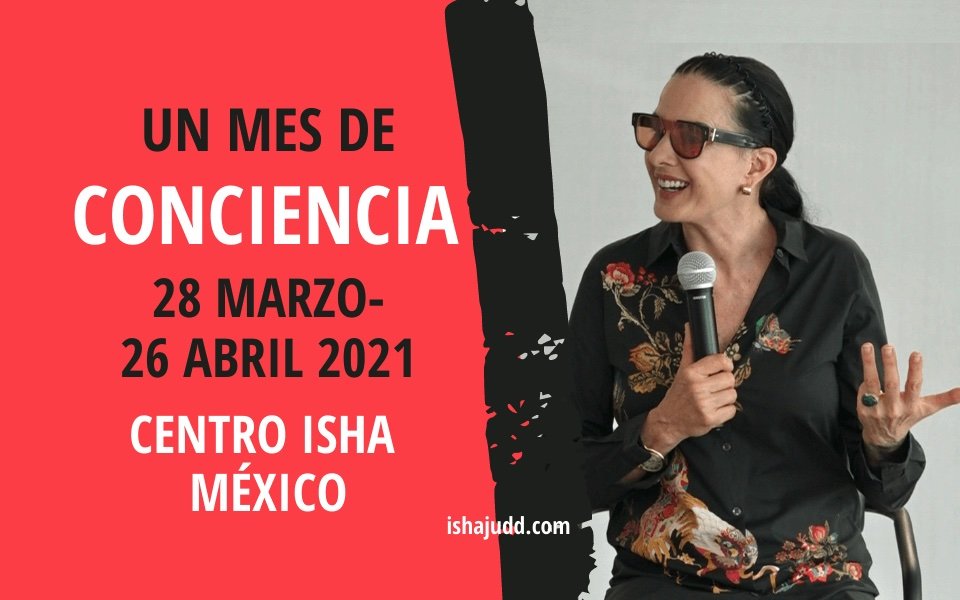 Isha Judd
Un tiempo único para conocerte y mirar tu vida desde un lugar diferente…
En nuestro Centro en México. Ven a disfrutar de un retiro muy especial, donde aprenderás a transformar tu vida desde la conexión con tu ser, con el silencio que subyace a todo… Una alimentación saludable, yoga, mucho tiempo de práctica y un compartir con personas que buscan lo mismo que tú, te darán un crecimiento y un descanso único, para volver con una renovación total a tu vida
Con la participación sorpresa de Isha durante este programa
Con la participación sorpresa de Isha durante este programa
¿Qué puedes lograr con él?
*Conocerte mejor.
¿Cómo?
Además de los descubrimientos que te da la práctica de la unificación, también emprenderás, junto con todos, un viaje dirigido a tu interior usando como cartilla de vuelo, el libro de Isha "¿Por qué caminar si puedes volar?"
*Limpiar energéticamente tu cuerpo.
¿Cómo?
Con una dieta muy liviana y la ingesta abundante de agua que aumente los beneficios naturales de la unificación en este aspecto. Así como también con el ejercicio físico, algunos de los cuales serán dirigidos,.
*Nutrir tu conciencia.
¿Cómo?
-Oyendo conciencia, inspirándote en las sesiones llamadas darshan donde Isha responde esas preguntas que nos hacemos acerca de la vida. Cuando Isha no está en el centro, pasaremos videos de otros darshan que ella está haciendo o ha hecho en otros lugares.
-Leyendo conciencia, en el tiempo que nos dedicaremos a la lectura y trabajo del libro antes mencionado.
-Dando conciencia, a través de hacer servicio durante algunos ratos de tu día, ya que esta es la verdadera naturaleza de la conciencia.
*Adiestrarte en el uso de las herramientas del Sistema.
Esto es lo que comienza tu proceso de sanación o lo acelera e intensifica si ya eres practicante.
¿Cómo?
Con la práctica intensiva de los componentes del Sistema Isha.
-Unificando muchas horas al día con los ojos cerrados y todo el tiempo con los ojos abiertos.
-Practicando el ejercicio de enfocarse en la Conciencia del Momento Presente
-Sintiendo tus emociones y aprendiendo o practicando como moverlas de una forma adecuada para sanar.
-Lo anteriormente mencionado de acerca de la alimentación, los ejercicios y el agua.
-Asistiendo a la reunión grupal donde aprenderás, haciéndolo, a expresar tus pensamientos y sentimientos con honestidad.
En todas las actividades tendrás guía o apoyo de maestros.
*Dos talleres serán impartidos durante el mes, estos serán:
Taller 1) Aprendiendo a amarnos a nosotros y al mundo con el portal diamante.
Taller 2) Creando nuestro bienestar con nuestras elecciones.
Cancellation policies
As a general rule applicable to all our events, the contribution paid is not transferable or refundable.
If for any reason of force majeure, you decide to cancel your assistance:
-Cancellations 20 days prior to the event: A retention of 20% of the total value of the event will be made, so you will have the remaining 80% in your favor for another subsequent event with a maximum validity of up to a year.
You must send the supporting documents that justify it to [email protected] or [email protected] and it will only be applicable to another event with a confirmation email from Isha Foundation.
-Cancellations less than 20 days before the event: If you cancel, if you do not show up or withdraw before the end, the contribution will not be transferable or refundable in any case.
Isha Foundation reserves the right to penalize with the retention of the total contribution if the reason for cancellation does not comply with the guidelines.
CANCELLATION POLICY DUE TO PANDEMIC CORONAVIRUS SARS-CoV-2 (COVID-19)
Aware of the implications of the COVID-19 pandemic, we ask you to contact us as soon as possible:
If prior to your arrival at the Isha Judd International Retreat Center,
–There is a suspension in your transfer (air or land) and/or the closure of borders
–Before your trip you have any symptoms or have confirmed the infection by COVID-19.
We will request the necessary documentation (airline notices, airport communications, official communications, positive test results for the COVID-19 coronavirus).
If the information is complete, you can only use your payment to schedule a new reservation during the next 12 months, according to the availability that we have in our Center. In no case will the contribution be reimbursable.
If upon your arrival at the Isha Judd International Retreat Center or during your stay,
–The result of the Antigen Test (mandatory test for detection of contagion by Coronavirus Covid-19) is positive
–A sign outside the normal parameters is detected and/or you present symptoms of cold, cough, fever, sore throat, headache, muscle pain, diarrhea, abdominal pain or any symptom that suggests infection by covid-19
The Isha Center will support you in communication with your health insurance and the organization for the immediate return to your home or to the place of your choice.
In this case, the proportional part will be deducted based on the days you have stayed in our facilities, to schedule a new reservation during the next 12 months, and according to the availability that we have in our Center. In no case will the contribution be reimbursable.
Isha Foundation is exempt from any liability.