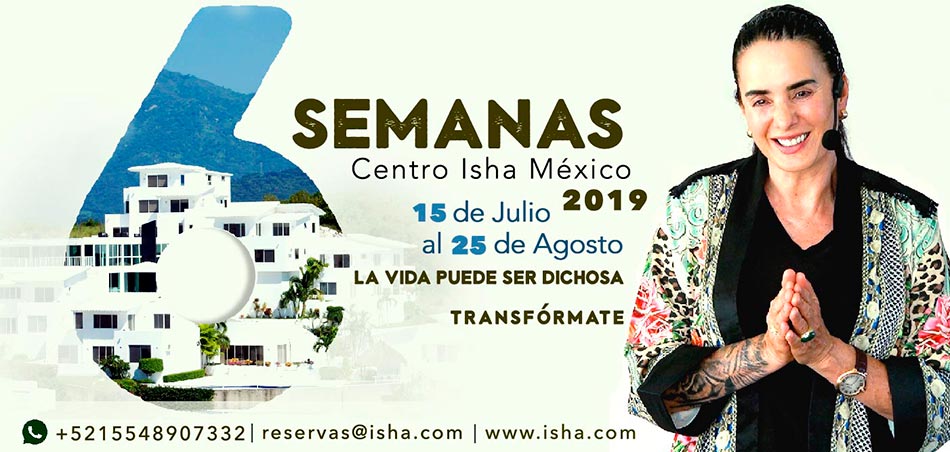 Contact us at WhatsApp +52 1 55 4890 7332
Once more Isha is offering this opportunity to participate with her and her entire team of teachers in Mexico, for a period of six weeks. This will be an incredible journey of self knowledge! This transformative retreat will take place in the Isha Center in Manzanillo (Colima), overlooking the spectacular coast of the Pacific ocean, beginning July 15 and ending on August 25 2019.
This is the second time we have provided this event, which will take place only once every two years.  For new students, it is an opportunity to learn the Isha system, a simple but powerful tool for self-knowledge and transformation, within a safe and supportive environment. Here you will learn to love yourself, start to release your accumulated stress, and transform your perception of life so that you bring home a new experience of inner peace and well-being to sustain you in any external circumstance.
For older students, it is an opportunity to profoundly deepen your experience, to expand consciousness and to become more present, removing your focus and energy from anything that doesn't serve you, so that you can live every moment of your life to the fullest.
So, if this resonates with you and you feel the desire to participate in this experience, act now and reserve your place!
You may wonder, what the difference is between a withdrawal of 7 days and one of six weeks.
First of all, this creates the opportunity to share a very deep healing experience with like-minded people from all over the world, and to draw on the experience of everyone so that all grow together in unity.  In addition, Isha and all her teachers from around the world come together to offer support and inspiration creating an environment which promotes rapid and profound change.
These six weeks enable you to make a significant jump in your process of internal transformation.
Of all the many activities that will generate a profound transformation in your being, the most important is the increased connection to your inner being, which is ultimately where all answers originate.  This is what provides the insight and energy necessary to effortlessly transform your life. 
Places for this retreat are limited, click here for more detailed information.
We are waiting for you with all our love!